Survey Reveals the Role of Digital Video in Elections
|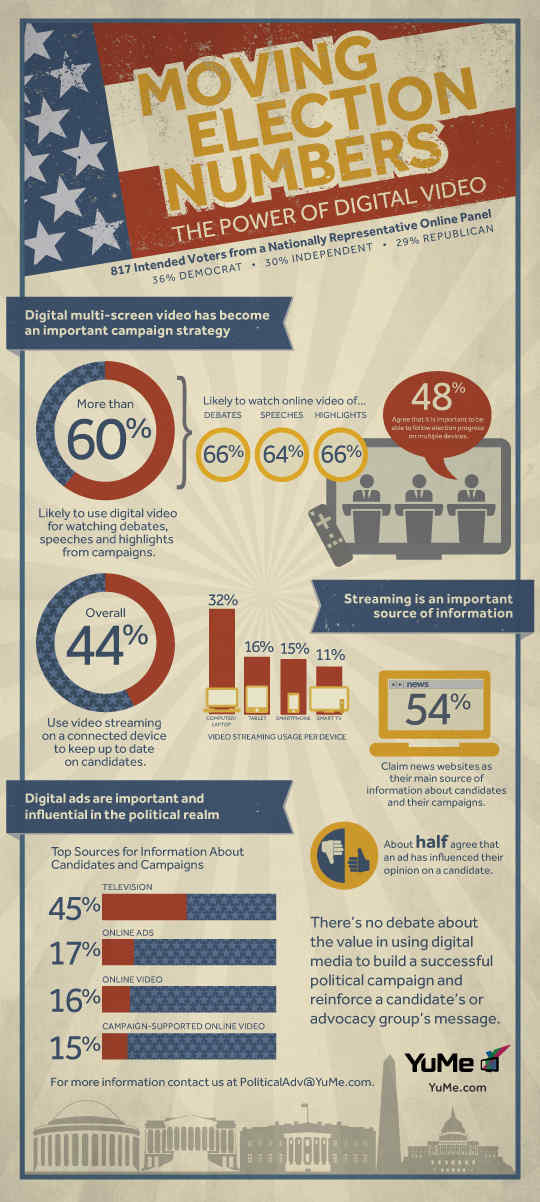 YuMe, Inc. (NYSE:YUME), a leading provider of digital video brand advertising solutions, unveiled its latest research results on current trends around voter viewing habits and media consumption for the upcoming U.S. midterm elections.
In June 2014, YuMe's survey polled 817 intended voters from a nationally representative online panel to show the value of using digital multi-screen video in political campaigns.
Results confirmed rampant multi-screen viewing trends, and gleaned insights into voters' planned behavior for the upcoming political midterm elections.
[ Also Visit: Real Voter – Politics in India ]
These results expressed the impact of using digital media to build a successful and strategic political campaign, the growing importance of user-initiated pre-roll video, and the benefits of reinforcing a candidate or advocacy group's message and call-to-action with streaming video.
[ Also Read: Digital Video Is the Preferred Medium for Sharing Ideas: Rollo Wenlock ]
Key Takeaways:
More than 60% of voters state they are likely to use digital video for watching debates, speeches, and highlights from campaigns
Almost half (48%) agree that it is important to be able to follow election progress on multiple devices
Streaming video has become an important source of information, with 44% likely to stream video on a connected device to keep up-to-date
32% of voters will stream video from a computer/laptop, 15% on a smartphone, 16% on a tablet, 11% on a smartTV
54% claim news websites as their main source of information about candidates and their campaigns
Ads continue to be an important source of information for voters (Television 45%, Online Ads 17%, Online Video 16%, Campaign supported online video 15%)
"Results support our hypothesis that digital video ads are important and influential in the political realm," says Bryson Smith, VP Political, YuMe. "The positive impact of multi-screen video is becoming more apparent to clients, and is now seen as an important campaign strategy."
Leave a Reply