Smartphone Users: No Time to Talk
|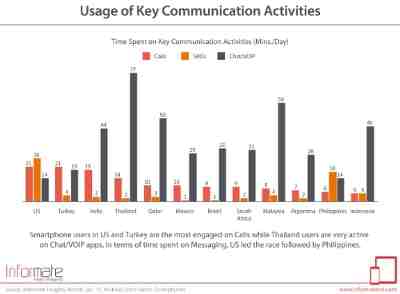 Smartphone users around the world are increasing the frequency of their communications with each other but, most of the time, it's not in the form of a phone call.
This is the key finding of a monthly report from Informate Mobile Intelligence that tracks and measures consumer use of smartphones in 12 countries.
"Our data reveals that most Americans love texting and would rather send a text than make a call," said Informate CEO Will Hodgman. "While, in many Asia Pacific and Latin American countries, the data reveals a strong preference for chat apps like Whatsapp Messenger and Facebook Messenger."
The report measured smartphone users' engagement on calls, texting and chat / VOIP and found that: the average American makes or answers six phone calls per day, sends and receives 32 texts, and spends 14 minutes on chat / VOIP.
In stark contrast, the report found that smartphone users in nine of the 12 countries measured, spent the bulk of their time on chat / VOIP and the least amount texting. Thailand came in at the highest daily use of chat / VOIP at 77 minutes per day compared to 14 minutes by users in the U.S.
"Our report finds that smartphone users in the U.S. are spending about 26 minutes a day texting. In 75 percent of the other countries we measured, it's less than five minutes," said Hodgman.
The International Smartphone Mobility Report provides marketers, telecoms, OEMs, and developers with information at how consumers are using their smartphones in growing global markets including the U.S., India, Indonesia, Malaysia, the Philippines, South Africa, Brazil, Mexico, Argentina, Thailand, Turkey and Qatar.
Informate has assembled consumer panels in 12 countries via the distribution of a free utility app called Data Diary.
Founded in 2008, Informate is a privately held mobile measurement firm. It is headquartered in Seattle, Wash. with offices in Singapore and Mumbai.
Leave a Reply