Samsung Galaxy View Promises Big-Screen Experience
|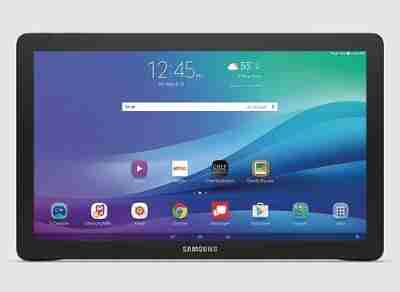 Samsung Galaxy View
The new Samsung Galaxy View, available now from Verizon, features a portable design that lets you enjoy a big-screen, TV-like experience from any room in your home using Verizon's 4G LTE network, says the company.
With an 18.4-inch full-HD display, stereo speakers and an easy-to-use interface, consumers can switch between all the TV and entertainment content they love with the swipe of a finger.
Using the device's built in grab-and-go handle and powerful battery, consumers can take the Galaxy View where ever they go.
This is the perfect mobile multimedia device for young professionals or college students looking to bring an entertainment center to their apartment or dorm room — with no set top box or extra equipment required — and still keep connected with friends and family using Verizon Messages.
For parents, the Samsung Galaxy View is the perfect device to binge-watch your favorite shows in bed while the kids are asleep or to watch sports when the kids take over the TV.
The Galaxy View has a built-in stand that allows for easy and stable hands-free usage on a flat surface or on your lap.
With the Galaxy View, everything you love is at your fingertips. Easily switch between movies, live TV and your favorite touchscreen apps via the simple-to-navigate grid menu – with your finger as the remote.
The tablet is available for $499.99 with a new two-year activation. You can add a Galaxy View to your existing Verizon plan for an additional $10 per month (plus taxes and fees).
The Verizon plan is available in five sizes, from size S with 1GB for $30/month to XXL with 18GB for $100/month, plus taxes and fees, and allows you to share data across up to 10 devices.
Leave a Reply