Pi Day Celebrations to Focus on STEM Education
|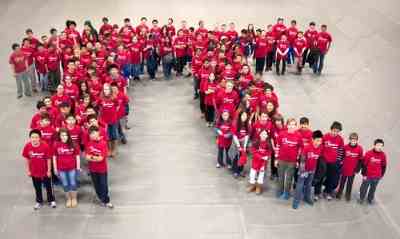 On March 14 – 3.14, or Pi Day – Raytheon Company (NYSE: RTN) is celebrating the world's most famous never-ending number by delivering pies to Boys & Girls Clubs and dishing out fun facts about the trusty, time-honored decimal.
Pi dates back some 4,000 years, and it is commonly used to calculate the area of a circle. The number represents the ratio of the distance around a circle (circumference) to the distance across its center (diameter).
Pi begins with 3.14 and goes on infinitely. To print out a billion decimal values in 12-point font would require a piece of paper long enough to stretch from Kansas to New York City.
[ President Obama and Michelle Obama Say Let Girls Learn ]
This year the chance to celebrate is unique – with a sequential time occurring on 3/14/15 at 9:26:53 in the morning and the evening! Join Raytheon in encouraging the boys and girls to join the Pi-arty:
Share the MathMovesU Pi Day quiz, fact sheet, infographic and video. It is in the Pi Day toolkit
Bake a pie with the student in your life – a great example of fractions at work – and deliver it to a science, technology, engineering or math (STEM) teacher to say "thank you"
Tweet or post a photo with #mathmovesu and #piday of your favorite math or Pi t-shirt– or take time to make one
Wish someone a "Happy Pi Day" with Pi Day eCards
Share your pictures and stories with Raytheon MathMovesU on Instagram, Twitter or Facebook with #PiDay and #MathMovesU.
[ RMN Foundation: Serving the Children ]
Pi is widely used by engineers and students to solve math problems. The pi symbol is commonly used to calculate the area of a circle: the area of the circle equals pi times the radius of the circle squared.
The earliest written approximation of pi dates back some 4,000 years. An ancient Greek mathematician from Syracuse, Sicily later discovered the first three digits of pi.
Raytheon's MathMovesU program is an initiative to increase middle and elementary school students' interest in math and science education by engaging them in hands-on, interactive activities.
Leave a Reply