OTO-EHON: Story-Telling App for Bedtime Stories
|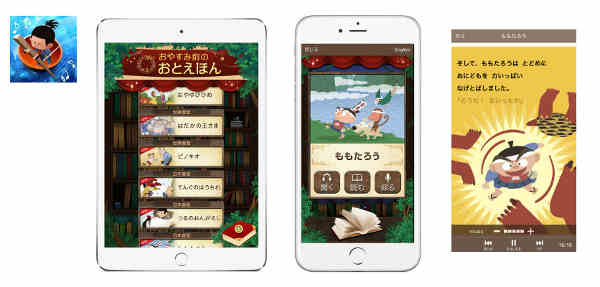 Excite Japan Co., Ltd announced Friday that its new story-telling app, Bedtime Stories "OTO-EHON"- Japanese Folk Tales & European Fairy Tales, is now available on the App Store for iPad and iPhone.
"OTO-EHON" provides a professional narration, illustrated stories, and orchestral music to users.
How to use "OTO-EHON"
READ mode
Each story is completed with illustrations. Like Karaoke, the words become highlighted for your assistance. With this help mode, anyone can become a natural storyteller.
RECORD mode
Once you've become accustomed to storytelling, you can use the record function to record your own voice. You can record mother's / father's original version of storytelling for your child.
Also, your child can record their own voice. The record can be kept as a memoir, or for your child for bedtime storytelling when he / she is alone.
LISTEN mode
You can listen to your recorded narration with music (free edition has a limit of view counts). With listen mode, your child can enjoy "OTO-EHON" even when you can't read to him / her.
You can also enjoy a professional narration with music just like an audiobook (free edition has a limit of view counts).
[ Also Read: Raman's Tech Tale Series: Digital Books ]
Until now, Excite Japan Co., Ltd has offered three stories in one app for JPY500 (tax-included) as Bedtime Stories "OTO-EHON" series. This time, new "OTO-EHON" provides 24 stories of the Bedtime Stories "OTO-EHON" series (Japanese version and English version) in one app.
New "OTO-EHON" is free-to-download and users are able to read six stories for free. Users need to register and pay monthly fee to read all stories (free edition has a limit of available pages).
Free edition has six stories: "Momotaro," "The Grateful Crane", "A Tengu's Feathered Fan," "Pinocchio," "Thumbelina," and "The Emperor's New Clothes."
In charged edition, a new story is added every two weeks, and all functions which have been limited in free edition are available. Since users can switch Japanese captions to English ones, "OTO-EHON" can be useful for studying English.
Leave a Reply