LTE Users Consume More Data than 3G Users: Study
|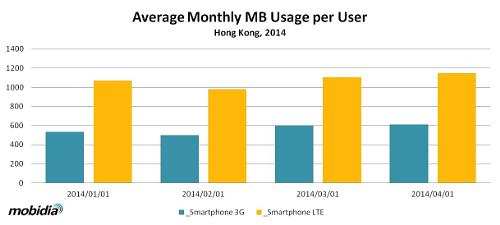 Mobidia Technology Inc., a leading provider of mobile usage data, today released new insights on mobile data usage in the leading LTE markets worldwide, including the U.S., Brazil, Canada, Germany, Hong Kong, Korea, Japan, Russia, South Africa and the U.K.
The analysis, based on a data set spanning the first four months of 2014 and covering LTE markets, indicates a positive impact for the more than 100 mobile operators that have deployed LTE.
The data continues to demonstrate a boost to these operators' business models from the deployment of LTE technology. LTE subscribers are consistently using more data than their 3G counterparts and continue to grow their usage month-over-month, according to Mobidia study.
The data also reveals the continued reliance of smartphone subscribers on Wi-Fi networks in 2014—consistent with trends identified over the past few years.
The study says operators continue to be challenged with preventing erosion to mobile-data business due to Wi-Fi as well as better integrating Wi-Fi with other mobile and fixed broadband offerings to enhance the user experience.
The analysis highlights the following specific trends:
Across the markets studied, LTE subscribers consumed dramatically larger amounts of data than 3G subscribers. As an example, LTE subscribers in Hong Kong averaged almost 100 percent more data consumption than 3G subscribers in the first four months of 2014.
LTE subscribers in Japan, South Korea and the U.S. lead the major markets in monthly data usage per subscriber. Subscribers in Japan averaged close to 3GB per month of usage in 2014.
Wi-Fi continues to be a primary means of connectivity for LTE subscribers. In all major LTE markets, Wi-Fi usage represented 75–90 percent of all mobile data consumed.
Subscribers in South Korea averaged over 12GB of mobile data consumed per month when accounting for both cellular and Wi-Fi usage, while subscribers in Japan and Russia averaged slightly less than 10GB of data consumption.
"Mobidia's mega-panel of LTE subscribers continues to grow in all the major markets," said Chris Hill, senior vice president of marketing at Mobidia. "We have millions of subscribers around the world providing insights on how LTE technology is changing consumption habits on mobile devices—and the changes continue to look positive for operators that have invested in LTE."
Mobidia analyzed data collected January 2014 through April 2014 from Android users in 10 of the leading, global LTE markets to analyze LTE usage trends.
Leave a Reply