IBM Rolls Out African Skills Development Initiative
|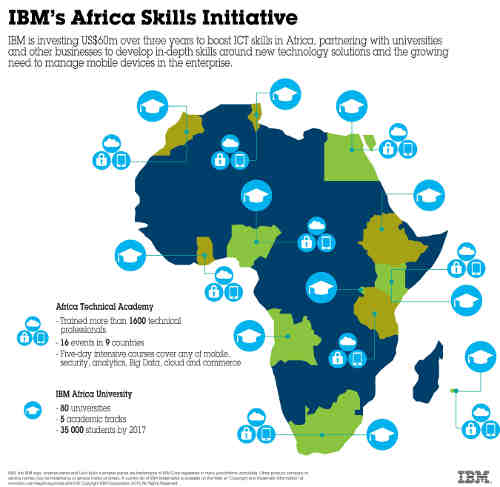 IBM (NYSE: IBM) announced Monday an investment of $60 million over three years to develop the next generation of technical talent in Africa.
As part of the initiative, IBM is expanding the Africa Technical Academy and the company's Africa University Programme to over 20 African countries.
IT professionals across the continent are set to benefit with advanced skills in analytics, cloud and big data technologies which are crucial to the next phase of Africa's economic and social development, says IBM.
In Kenya – home to IBM's Africa Research lab and an Innovation Center – IBM is partnering with the Kenya Education Network (KENET) to deliver advanced hands-on certification courses to faculty and students of 50 Kenyan universities over KENET's broadband network.
[ Role of Internet in Education: RMN Foundation Workshop ]
The certification courses will develop and enhance job market readiness among university students by providing the technical expertise that both employers and entrepreneurs require in order to succeed in a fast paced growth market like Kenya.
"With a research laboratory, innovation centers, offices and other advanced facilities in more than 24 African countries, IBM has the highest concentration of technical talent on the African continent," said Dr. Naguib Attia, IBM chief technology officer & VP Technical Leadership MEA.
The courses are available at no cost and are facilitated by both IBM online trainers and certified faculty in the participating universities.
KENET is the first sub-Saharan National Research and Education Network to enter into such an agreement with IBM that allows all connected member universities to benefit from the certification program.
Leave a Reply