How Girl Scouts Sell Digital Cookies
Girl Scouts of the USA (GSUSA) will present Digital Cookie, the organization's new addition to the Girl Scout Cookie Program, at the January 2015 Consumer Electronics Show (CES) at the Sands Expo Center in Las Vegas.
The Digital Cookie booth will be located in the Family and Technology section of the Living in Digital Times marketplace.
Meanwhile, GSUSA – which is a girl leadership development organization – has released a new video series called Portraits in Leadership.
In an intimate and candid series of profiles, Girl Scouts across the country conducted interviews about leadership and life lessons with their female representatives in the United States Congress.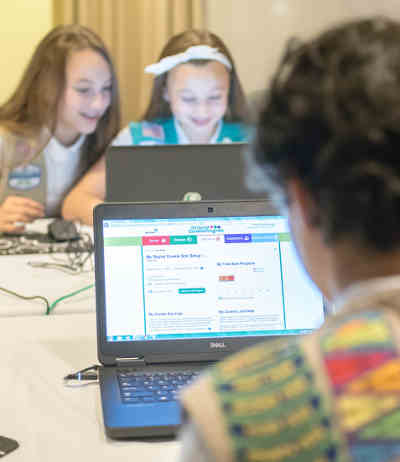 For the first time in the organization's history, Girl Scouts will attend CES to showcase the recently announced Digital Cookie, which creates a fun, safe, and interactive space for girls to sell cookies, taking the 100 year-old cookie program digital.
This enhancement adds a digital layer that expands and strengthens the ways girls learn the essential "5 Skills" of goal setting, decision making, money management, people skills, and business ethics.
A bold step into the future of the Girl Scout Cookie Program, Digital Cookie will introduce vital 21st-century lessons about online marketing, app usage, and ecommerce to more than one million excited Girl Scouts who will be in the driver's seat of their own Digital Cookie businesses.
Showcasing Digital Cookie at CES underscores GSUSA's commitment to using technology to help position Girl Scouts for the future.