Gogo Partners with Cassie Slane to Share Travel Tech Tips
|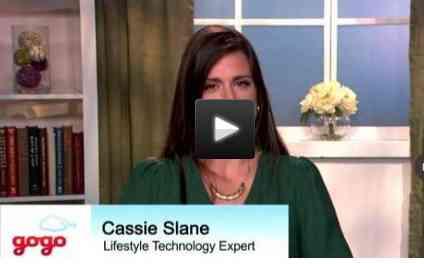 Gogo, a leading global aero communications service provider, has teamed up with lifestyle technology expert Cassie Slane to share the latest travel trends for this holiday season.
"Whether passengers are traveling an hour away or embarking on an international destination, the holiday travel season can be a challenge for everyone," says Cassie Slane. "Technology advancements such as international connectivity, free texting services, and the ability to stream movies and TV shows to your own device offer passengers a variety of new ways to stay productive and entertained in–flight."
Travel Tips
Get ready for takeoff: Download helpful travel applications ahead of time that can help you best manage your time. GateGuru gives airline passengers approximate wait times in security, a map to your terminal and gate and is available in more than 25 languages.
Once you've reached cruising altitude: Passengers can now find in–flight connectivity on more than 2,000 aircraft across 11 airlines globally. The ability to stay connected gives passengers traveling on domestic and international routes time to finish any last minute emails, update their social media channels and do some last minute shopping before the holiday madness begins. You can pre–purchase connectivity sessions at www.gogoair.com.
Customize your experience: Passengers that bring along their own tablet or laptop will have access to a new kind of entertainment on demand. On more than 1,600 aircraft passengers will have access to a content library full of movies and TV shows that stream to passengers' own devices. This product is the perfect way to keep children engaged on a long flight or to enjoy some much needed entertainment of your own.
Applications in-flight: If passengers are on a Gogo equipped flight, there are applications they can take advantage of free of charge. All T–Mobile customers can take advantage of free in–flight texting and voicemail services on all Gogo equipped U.S. airline aircraft. To access, customers must activate Wi–Fi calling on the ground prior to the first use of the free service. Passengers do not need to purchase Internet connectivity to take advantage of unlimited texting and voicemail allowing passengers an additional outlet to stay connected in–flight.
Location sharing based application Glympse allows passengers to send their location at 30,000 feet via SMS, email or social media in–flight. Passengers traveling during the holidays can utilize Glympse to give loved ones an accurate arrival time, perfect in case you run into any last minute flight delays.
For a complete list of the most useful apps and technologies that will assist passengers on their holiday travels, check out Gogo's holiday season travel survival guide.
Leave a Reply