Epson BrightLink Projectors Provide Whiteboard Sharing Tool
|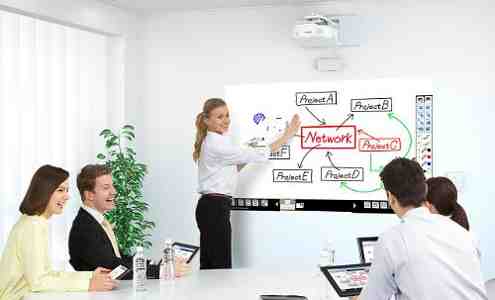 Projector brand Epson today announced its new BrightLink Pro-Series designed for meeting rooms and classrooms.
The BrightLink Pro 1430Wi and 1420Wi transform any flat surface, such as existing whiteboards and tables, into digital whiteboards and interactive spaces by using built-in tools that don't require a computer or software.
The new series feature a new Whiteboard Sharing Tool that allows up to 15 participants to join a whiteboarding session directly from any mobile device with a web browser or from another BrightLink Pro – without using a software or app.
Designed for businesses, as well as higher education and K-12 environments, BrightLink Pro ultra-short throw interactive meeting room projectors are easy to use and work like an appliance. Users simply turn on the projector and start writing with no PC required.
Unlike traditional whiteboards, users can add up to 50 blank pages for virtually unlimited writing space, as well as save, print and email notes, with improved email functionality.
For users editing and annotating on top of existing image or document files, these models also deliver improved object tools such as copy, paste, crop, and rotate for ease-of-use.
The BrightLink Pro 1430Wi supports gestures, up to six fingers for annotations, as well as dual-pen support.
The Epson BrightLink 1430Wi and BrightLink 1420Wi projectors will be available in August through VARs and resellers for $2,999 and $2,799, respectively.
Leave a Reply