Cricket Introduces the First Windows Phone "Phablet"
|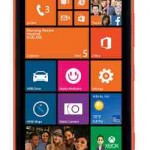 Cricket Wireless debuted today the first Nokia phone / tablet, or "phablet", for no-annual-contract customers in the U.S.
The Nokia Lumia 1320, a 4G LTE device, is available exclusively in Cricket stores and online beginning this Friday, June 13.
The orange Lumia 1320 features a 6″IPS LCD display, allowing customers to carry one device for all their talking, texting, surfing, streaming and productivity needs.
The Lumia 1320 will arrive at Cricket for $229.99 after a $50 mail-in-rebate Cricket Visa Promotion Card.
Cricket Wireless is a subsidiary of AT&T Inc.
Photo courtesy: Cricket Wireless
Leave a Reply