Capgemini Super Techies Show Invites Participation
|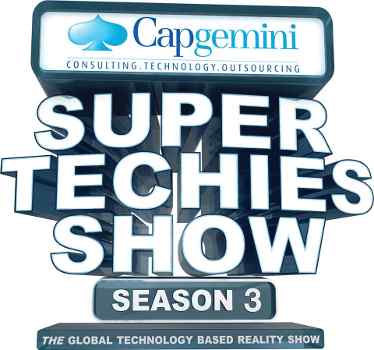 Capgemini, one of the world's leading providers of consulting, technology and outsourcing services, announced Friday the third season of the Capgemini Super Techies Show. It is stated to be India's first technology-based reality TV show for IT professionals.
This year participants, from a number of countries including India, UK, the Netherlands, Sweden and France, are invited to battle it out and solve real business challenges faced by some of the largest enterprises across the globe.
The show will be aired, later this year, on ET NOW news channel in India and will be broadcast on Capgemini's official YouTube channel for the global audience.
[ Also Read: How to Participate in Kaun Banega Crorepati TV Show ]
In addition to Indian IT professionals, the Capgemini Super Techies Show has this year extended its format by including university students with technology backgrounds from all participating countries.
The candidates will get an opportunity to understand technology trends prevalent in today's business environment by interacting with Capgemini experts and global technocrats across a variety of industries. The winning team will be awarded with a cash prize of USD 25,000.
[ Also Read: 10 Reasons I Like Indian TV Shows ]
"The Capgemini Super Techies Show has always strived to be one such platform where young IT professionals have the opportunity to showcase their innovative skills in solving real-life business challenges put forth by global business leaders," said Aruna Jayanthi, CEO, Capgemini India and member of Capgemini Group Executive Committee.
All eligible applicants can apply online, starting on 22nd May and closing on 30th June, 2014.
Photo courtesy: Capgemini
Leave a Reply