Big Fish Launches "Cascade" Game on Mobile Devices
|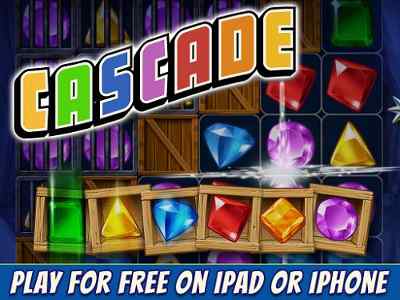 Cascade from Big Fish is available now for free on mobile devices – smartphones and tablets. With 140 handcrafted puzzles to solve, Cascade combines a Match-3 game with a Slot Machine in a new, patent-pending game mechanic.
This combination results in a game that is both familiar and entirely unique, requiring both strategy and luck, says Big Fish.
The story of Cascade has you journeying alongside Jasper, a mole participating in the Great Cascade Gem Rush. Accompany Jasper through 10 hand-painted lands and meet his wildlife friends: bears, arctic foxes, and one otter who loves kayaking.
You can also compete with your real-world friends for high scores, or you can ignore them entirely and Cascade will never make you spam them. There are no "friend gates", or "pay walls", or anything stopping you from playing through the game.
Cascade also features a daily challenge puzzle and there will be regular updates with new lands, characters, obstacles, and gems. If you do get stuck on a puzzle, there are a variety of boosts that you can use to make things a little simpler, and a daily spin wheel that awards free boosts.
If you like puzzles, animals, or shiny objects of any kind, Cascade will keep you coming back for one more spin.
Founded in 2002, Big Fish is a leading producer and distributor of casual games.
Leave a Reply