Adobe Report Predicts Summer Travel Spend to Touch $65 Billion
|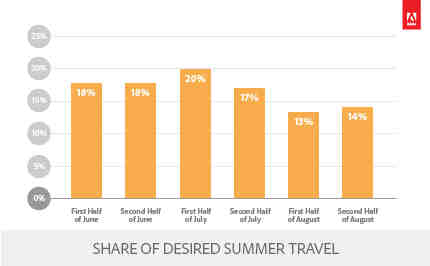 Adobe released Thursday its annual Digital Index Travel Report, which reveals the best times to book airfare and hotels, top destinations, total online travel spend, consumer buying behaviors across devices and more.
Adobe claims that the report analyzed more than 15 billion visits across major U.S. travel, airline and hotel sites between 2013 and 2015 and more than three million social media mentions.
Consumers are expected to spend $65 billion online on travel between Memorial Day and Labor Day, seven percent more than in 2014.
Twenty percent of travel bookings are now coming from smartphones and tablets, over six percent more than last year. The analysis also shows that Washington D.C. tops the list of U.S. travel destinations followed by Los Angeles, New York, Las Vegas, and San Francisco.
[ Is New Delhi the Dirtiest City of the World? ]
Adobe's annual travel report provides travel insights in the industry and is based on aggregated and anonymous data from Adobe Marketing Cloud. Pricing details are based on booking transactions.
The report analyzed traffic and sales across major U.S. travel, airline and hotel sites including seven of the top ten airlines and eight of the top ten hotel chains. Adobe also conducted a complementary survey of 1,000 U.S. consumers who plan to travel this summer.
"Adobe expects summer travel spending to increase to $65 billion this year," said Tamara Gaffney, principal analyst, Adobe Digital Index. "Mobile devices are now the source of 20 percent of online travel spending. Mobile is hot and so are Washington, D.C., Los Angeles and New York, the top three U.S. summer travel destinations of 2015."
Adobe Digital Index publishes research on digital marketing and other topics of interest to senior marketing and e-commerce executives across industries.
Research is based on the analysis of select, anonymous and aggregated data from over 5,000 major companies worldwide that use Adobe Marketing Cloud to obtain actionable data and analysis of activity on their websites.
Leave a Reply