IBM Studio Opens in London to Focus on Digital Marketing
|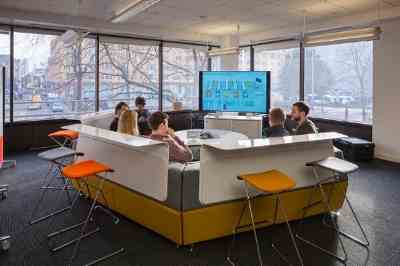 IBM (NYSE: IBM) today announced the opening of IBM Studio London, where IBM design and digital experts will work with clients to help them engage with customers using big data, mobile, cloud and social innovations.
Located in the IBM Southbank location on the banks of the River Thames, the Studio will be the hub of IBM Design in London.
It will host local teams from IBM Interactive Experience, a digital agency, IBM Marketing Innovation Group, which enables digital discovery and marketing to build new engagement models, as well as local IBM product designers.
Teams in IBM Studio London will collaborate on projects to support the global demand for data-driven experiences.
Nearly 20 IBM Studios around the world have already produced innovations including a machine-to-machine connected car platform, IBM Bluemix, the open platform that enables developers to rapidly build, deploy and manage their cloud applications, and IBM Verse, which re-imagines email for the age of analytics and cognitive computing.
IBM Studio London will be a space for clients in industries such as healthcare, financial services and retail to work side-by-side with IBM consultants, researchers, digital marketing and experience design experts to analyze business challenges and integrate next-generation mobile, social, analytics and cloud technologies.
Leading skill sets in IBM Studios include User Interface / Visual Design, Graphic Artists, User Experience Designers, Design Developers, including Mobile Developers, Industrial Designers, Agile Scrum, Social Media experts, Data Scientists and Marketing specialists with constant additions to the capabilities of the IBM Studios.
Leave a Reply