IBM Invests $3 Billion to Bring Watson Cognitive Computing to IoT
|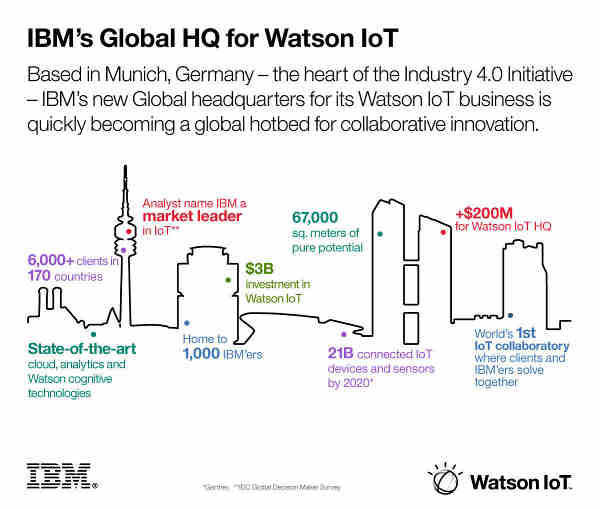 Tech major IBM unveiled Monday a $200 million USD investment in the new global headquarters for its Watson Internet of Things (IoT) business in Munich.
The company will also focus on new IoT capabilities around Blockchain and security and an array of clients that are driving real outcomes by using Watson IoT technologies to draw insights from billions of sensors embedded in machines, cars, drones, ball bearings, pieces of equipment and even hospitals.
As part of a global investment of $3 billion USD designed to bring Watson cognitive computing to IoT, IBM has allocated more than $200 million USD to its global Watson IoT headquarters in Munich.
The investment, one of the company's largest ever in Europe, is in response to escalating demand from customers who are looking to transform their operations using a combination of IoT and Artificial Intelligence technologies. Currently IBM has 6,000 clients globally who are tapping Watson IoT solutions and services, up from 4,000 just 8 months ago.
The Watson IoT headquarters will be home to the first ever cognitive IoT Collaboratories – hands-on industry labs where clients and partners can work together with IBM's 1,000 Munich-based researchers, engineers, developers and business experts to drive collaborative innovation in the automotive, electronics, manufacturing, healthcare and insurance industries.
Together, they will tackle the toughest challenges of their respective industries; apply new concepts and technologies to build IoT solutions; develop and test new business models, solutions and services; and push the boundaries of what is possible with IoT.
Within two years, according to IBM, the Internet of Things will be the single greatest source of data on the planet, generated by billions of interconnected sensors and devices embedded into the world's physical systems.
IBM's Watson technologies use machine learning and natural language processing to reveal insights from this data, helping to transform businesses, lives and societies. IBM is a major player in the Internet of Things with more than 6,000 client engagements in 170 countries, a growing ecosystem of over 1,400 partners and more 750 IoT patents.
Leave a Reply