How Verifone Secure Commerce Architecture Works
|
Verifone (NYSE: PAY) announced Saturday that Vantiv, Inc. (NYSE: Vantiv), a leading provider of payment processing services and related technology solutions for merchants and financial institutions of all sizes, has approved Verifone's Secure Commerce Architecture (SCA) solution for connecting Verifone's line of commerce-enabled MX 900 payment terminals directly with Vantiv's processing platform.
Vantiv's support of SCA ensures that merchants using Verifone's MX 900 series of terminals and Vantiv's processing services can enhance payment data security and reduce the scope of EMV certification, says Verifone.
How SCA Works
Large-scale theft of consumer payment data from merchants' integrated point of sale (IPOS) systems (e.g., cash register) is one of the biggest challenges facing the payments industry.
Another challenge comes from the significant number of merchants' POS integrators and other payment providers looking to certify new EMV-capable devices in response to the mandated fraud liability shift from bank to merchant in October 2015.
SCA from Verifone decouples payment data from the merchant's IPOS system, and enables encrypted delivery of this data from the payment terminal directly to the merchant's processor.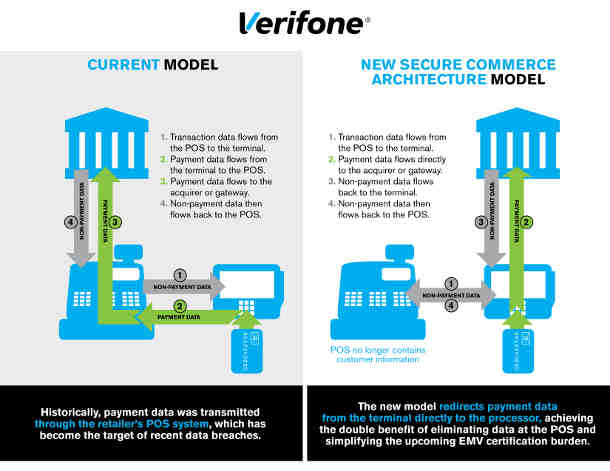 How Vantiv Clients Benefit
Connecting directly to Vantiv's host using SCA from Verifone provides Vantiv's larger retailers with two key benefits:
Enhanced Payment Security: SCA is designed to prevent consumer payment data from entering the IPOS, which eliminates the potential for the data to be stolen at scale. Instead, card data is encrypted and transmitted directly to the merchant's payment processor.
Streamlined EMV Certification: By decoupling payment data from the IPOS, SCA is designed to reduce the IPOS from scope of EMV certification, greatly reducing the burden for merchants.
"Vantiv is intent on providing our merchant customers with the best payment security options available," said Robert McMillon, vice president of Product Security for Verifone. "Use of Verifone's SCA with Vantiv's payment host reduces the complexity of the merchant payments infrastructure and makes it easier to achieve compliance requirements."
The MX 900 series features digital color displays, high-speed graphic processors and large memory capacities that enable retailers to deliver targeted promotional content to consumers at the POS.
Leave a Reply