How to Provide Online Safety Education to Children
|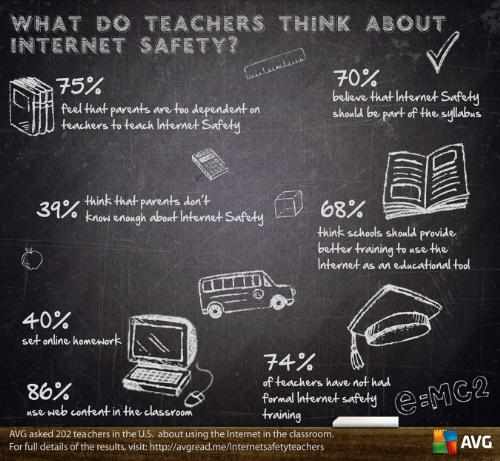 Parents rely too much on schools to teach their children about online safety, according to 82 percent of teachers surveyed globally by AVG Technologies, (NYSE: AVG), an online security company.
The research highlights the ongoing discussion over the responsibility for delivering online safety education to children, with a further 38 percent also believing that the parents of their students do not know enough about the topic themselves.
The research, in which almost 1,800 teachers globally were interviewed, indicated a need to provide teachers with more support and training for educating children on the subject of online safety.
[ Also Read: Meet the Uneducated Education Minister of India ]
Two thirds (64 percent) of respondents agreed that schools should provide better training on using the Internet as an educational tool, and 77 percent stated Internet safety should be a dedicated part of the education syllabus.
This highlights the concerning gap between the knowledge and capabilities of teachers and the expectations of parents.
Though more than nine out of ten (92 percent) teachers of a wide range of subjects confirmed they use Internet content in class and 69 percent discuss online safety on an occasional or frequent basis, only one in four have actually had formal training to teach online safety skills (28 percent).
[ Also Read: Are Criminals Using YouTube to Sell Stolen Credit Cards? ]
AVG also released the second in its series of interactive children's education books, called Magda & Mo. The books are part of AVG's aim to provide families with useful tools to help develop a child's understanding of how to make the right choices online, and give parents practical guidance on the subject.
AVG commissioned an online survey interviewing teachers of a variety of subjects with children between the aged of 3-18 to identify levels of training on security awareness in the following markets; Australia, Brazil, Canada, Czech Republic, France, Germany, New Zealand, the United Kingdom and the United States.
A total of 1,760 teachers carried out the 10 minute survey during June 2014. Research Now carried out the fieldwork using their proprietary panels. AVG released the survey findings today, July 7.
Leave a Reply