How to Bring Your Video Collection to Amazon Fire TV
|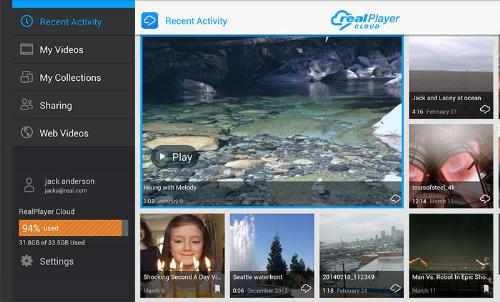 Consumers can now stream personal videos on their TVs, alongside top entertainment channels, all from Amazon Fire TV.
How? RealNetworks, Inc. (NASDAQ: RNWK) has announced that RealPlayer Cloud, its integrated video player and cloud service app, is available on Amazon Fire TV.
With the addition of Fire TV, the Amazon and RealPlayer Cloud communities now have an all-new way to watch their video collections on their big screens from the comfort of their living room.
RealPlayer Cloud will be one of the first apps integrated with Fire TV at its launch. Because Fire TV was built upon an Android operating system, the development of the RealPlayer Cloud app was a more fluid and much faster process than what is normal for a new platform, says the company.
"Our strategy is to integrate RealPlayer Cloud technology into more devices, like Amazon Fire TV, that are changing the way people experience entertainment," said Rob Glaser, interim CEO and founder of RealNetworks.
RealPlayer Cloud allows users to store their video collections in the cloud, making them accessible on many devices. In addition, people can use the app to privately share videos with friends and family – even if their loved ones don't have the RealPlayer Cloud app.
Through its SurePlay technology, RealPlayer Cloud ensures videos watched through the app are automatically formatted to give viewers the highest quality experience possible, says the company.
This technology, combined with Fire TV's intuitive user interface, makes Amazon's new device ideal for RealPlayer Cloud, according to the company.
The Fire TV release adds to the list of platforms on which RealPlayer Cloud is available: iPhone, iPad, Android, Kindle Fire, Windows 8 Modern UI, Windows, Roku and Chromecast, and other devices via a Web browser.
The RealPlayer Cloud app is available as a free download and comes with 2 gigabytes of cloud storage for free to all users worldwide.
RealPlayer Cloud also offers additional storage via subscription plans that start at $4.99 per month.
In the picture above: RealPlayer Cloud Menu Screen on Fire TV.
Leave a Reply