Free Cox WiFi Hotspots Available for Super Bowl
|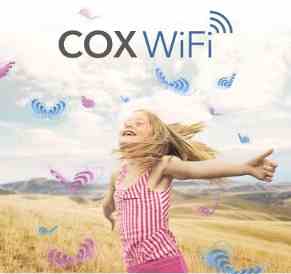 Cox Communications has opened up more than 1,200 hotspots to the public for free, unlimited use during Super Bowl XLIX week and is adding additional temporary hotspots to high traffic areas to help keep residents and tourists connected.
In addition to the existing Cox WiFi hotspots located throughout the Valley, in places like the tailgating parking lots at University of Phoenix Stadium, additional hotspots have been installed at Downtown Phoenix's Super Bowl Central and Fan Fest Scottsdale.
"Cox's Valley wide CableWiFi network helps our internet customers stay connected while on the go, and we are pleased to be able to open this network up to all valley residents and visitors during this exciting week," said John Wolfe, senior vice president and southwest region manager.
[ Victoria's Secret: Don't Drop the Ball ]
The WiFi activation came on the heels of the company's gigabit internet speed launch in the Phoenix Metro area, offering consumers speeds 100 times faster than the average speed in the market today, according to the company.
Cox has offered gigabit services for businesses for more than a decade nationwide and extended the capabilities to homes in Phoenix and Orange County, California this fall, with plans to offer in all its markets by the end of 2016.
[ D-Link Offers Free Wi-Fi Cameras to Ghost Hunters ]
Cox Wi-Fi hotspots can also be found by entering a user's location at www.cox.com/hotspots. Users can also click on a Wi-Fi icon on the map or download the Cox Connect app for iPhone and Android devices to immediately access directions to or from the specific WiFi hotspot address.
Once a user has logged onto a Cox Wi-Fi or Cable Wi-Fi hotspot, his or her wireless device will automatically recognize and logon to other Cox Wi-Fi and Cable Wi-Fi hotspots for up to two years.
Subscribers to Cox's Preferred, Premier, Ultimate and GIGABLAST Internet packages in Phoenix, Las Vegas, Northern Virginia, Connecticut, Omaha and Sun Valley, Idaho have free access to CoxWiFi as part of their service.
And non-subscribers are invited to try Cox WiFi for free for one hour. For the Super Bowl, the hotspots are temporarily available to all for unlimited use.
Leave a Reply