Chicago Tribune Introduces New Digital Experience
|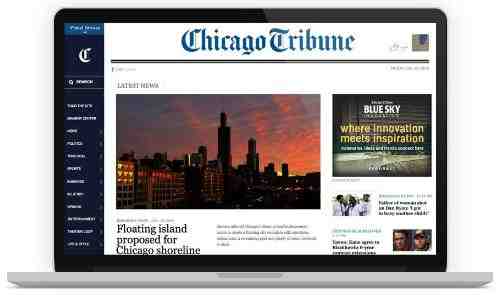 The Chicago Tribune is introducing a new digital experience designed to increase functionality for users on any platform.
The fully-responsive experience – which intuitively tailors content based on device – is designed to help audiences discover news and information on the desktop, laptop, smartphone, or tablet.
The University of Chicago is the presenting sponsor of the new consumer experience.
[ Also Read: "Traditional World of Print Magazines is in Decline" ]
"Chicago Tribune is at the center of news and information in greater Chicago, and our new digital experience makes it easier for our audience to stay connected to the stories that are important and relevant," said Tony Hunter, CEO of Chicago Tribune Media Group. "We built the new experience from the ground up to give readers more of what they value most – premium content – and we designed it to facilitate dynamic discovery across all devices."
Chicago Tribune Media Group (CTMG) is a media and business services company that publishes the Pulitzer Prize-winning Chicago Tribune.
CTMG also produces related print and interactive media serving Chicagoland like RedEye, Hoy, Chicago Magazine, Naperville Magazine, TribLocal, The Mash, chicagotribune.com, chicagonow.com and metromix.com.
Leave a Reply