AT&T, Samsung Get Rag & Bone for Galaxy Note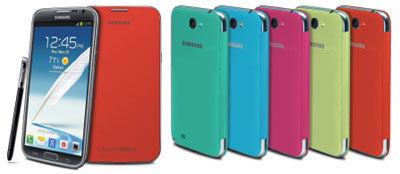 AT&T and Samsung Mobile have announced their sponsorship of fashion brand rag & bone for the U.S. launch of their upcoming device, the Samsung Galaxy Note at AT&T, available in-store Feb. 19 and for pre-order now.
Galaxy Note consolidates the core benefits of a tablet while maintaining the portability of a smartphone. In celebration of the release of the Galaxy Note, rag & bone designers Marcus Wainwright and David Neville have designed a custom case for the Galaxy Note, available soon.
[
Also Read
:
DROID 4 by Motorola for Verizon 4G LTE Network
]
In addition, AT&T and Samsung Mobile will serve as the title sponsor of the rag & bone Fall Winter 2012 Mens and Womens Collection shows on Feb. 10 during New York Fashion Week.
As a part of the sponsorship, David Neville and Marcus Wainwright will host the Galaxy Note U.S. launch party during New York Fashion Week on Feb. 14.
[
Also Read
:
What Moms Do with Their Mobiles
]
"Working with Samsung on this project has been a very exciting process. We are looking forward to the release of the Galaxy Note and to be involved in the launch of such a cool device that merges technology and design," said Neville and Wainwright of rag & bone.
"The Galaxy Note is the perfect device for designers, such as Neville and Wainwright, as it allows everyone to sketch out thoughts and ideas, and easily share – no matter where you are," said Dale Sohn, president of Samsung Mobile.
[
Also Read
:
Nokia Sells 1.5 Billion Series 40 Mobile Phones
]
AT&T, Samsung and rag & bone have created a co-branded advertising campaign, which will launch later this month, to promote the Galaxy Note and the rag & bone sponsorship.
There will also be a Facebook page offering an interactive experience for consumers, which will feature daily giveaways including rag & bone gift cards and merchandise, Samsung Galaxy Note devices, VIP passes to rag & bone's Fashion Week show and postings by the designers. The Facebook page: http://www.facebook.com/galaxynoteragandbone.
[
Also Read
:
Facebook Going Public at Peak Valuation: NIA
]
With a 5.3″ HD Super AMOLED screen (1280×800), the Galaxy Note combines smartphone capabilities with an integrated S Pen and larger viewing screen in an easy-to-carry device.
The pressure-sensitive S Pen can be used to take notes or personalize images which can be sent via email or text and its touch-screen. The Galaxy Note includes 16GB of built-in memory, an SD card slot, Wi-Fi, Bluetooth, and GPS.
It also features an 8-megapixel camera with 1080p video recording on the back and a 2-megapixel camera on the front. The Galaxy Note will be available in carbon blue and ceramic white in AT&T stores on Feb. 19, with pre-orders beginning on Feb. 5.
Leave a Reply