PayPal Listed on Nasdaq, Separates from eBay
|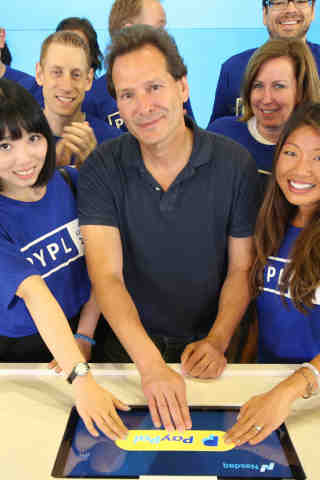 PayPal Holdings, Inc. announced Monday that it has completed its separation from eBay Inc. and is now an independent public company trading on the Nasdaq Stock Market under the ticker symbol "PYPL."
The company's leadership team joined with employees and merchants to push the PayPal button to ring the opening bell at Nasdaq to mark the milestone.
"As the world's open, digital payments platform and most trusted and popular digital wallet, we are excited to celebrate our listing day and embark on our next chapter," said Dan Schulman, president and CEO of PayPal.
PayPal says it is well-positioned to deliver the benefits of digital money to people around the world. In 2014, PayPal processed $235 billion in total payment volume and generated more than $8 billion in revenues, says the company.
Also last year, according to PayPal, it processed $46 billion in mobile payment volume. The company says it serves more than 169 million active customer accounts in 203 markets around the world.
PayPal previously was listed on the Nasdaq under the same ticker symbol "PYPL" before it was acquired by eBay Inc. in 2002 for $1.5 billion. "We'd like to thank our friends at eBay for their tremendous support and partnership over the past 12-plus years," concluded Schulman.
Under the terms of the separation, on July 17, 2015, stockholders who held eBay common stock at the close of business on July 8, 2015 (the "Record Date") received a distribution of one PayPal common share for every one share of eBay common stock held as of the Record Date. No fractional shares of PayPal were distributed.
Since July 6, 2015, PayPal shares have traded on a "when issued" basis on the Nasdaq under the symbol "PYPLV," permitting investors to trade the right to receive PayPal shares in the distribution.
"When issued" trading of PayPal common shares ended at the close of the market on July 17. Starting Monday, the "regular way" trading of PayPal common stock on the Nasdaq commenced under the symbol "PYPL."
In the picture above: PayPal President and CEO Dan Schulman joins employees and customers to push the iconic PayPal button to ring the bell at Nasdaq.
Leave a Reply