Tata Sky to Use IBM MobileFirst Platform
|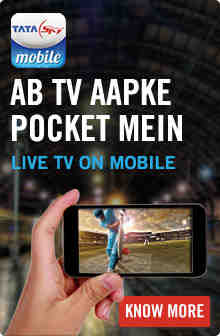 Tata Sky, a leading broadcast satellite television provider in India, has selected IBM (NYSE: IBM) to launch new mobile solutions, IBM said Monday.
With the IBM MobileFirst Platform, Tata Sky will securely integrate customer and enterprise data and launch new apps especially in rural markets.
For example, the new mSales app helps dealers and distributors respond to customer inquiries, track existing accounts and onboard new subscribers. Access to mobile capabilities that enable more efficient customer service is especially important in rural areas where there is often limited access to laptops or reliable Internet connectivity, according to IBM.
The mSales app creates new cost efficiencies by decreasing help desk calls to manage existing customer needs, and streamlines processes for establishing new accounts. With simplified access to customer analytics, dealers and distributors can better engage customers with more targeted, personalized products and services, says IBM.
"With IBM's deep mobile and industry expertise we have gained a trusted partner for mobile solutions. The Tata Sky mSales app is one of the few examples of how mobile handsets can help us overcome business challenges," said Ravishanker, chief information officer, Tata Sky.
Advancing clients' digital transformation strategies, the IBM MobileFirst portfolio of solutions can be integrated as a part of a hybrid cloud solution that combines public and private cloud elements with the flexibility to choose and change environments, data and services as needed.
Photo courtesy: Tata Sky
Leave a Reply